DANIELLE KRYSA
appreciating the little things
Aug 20 – 31, 2020
Walks around the block, perfectly pink sunsets, freshly baked pie, and actually being home to water the plants. Before March 2020, most of us took these simple pleasures for granted — and then, whether we liked it or not, we were forced to embrace them… sourdough bread, anyone? While this new 'normal' has caused a rollercoaster of emotions for the entire world, there are silver linings. We've slowed down. We've discovered how much we love hugs. We've given Mother Nature a chance to catch her breath. We've taken our dogs for walks, watched the sun set, baked everything, and watched our gardens grow.
This show is filled with 18 small mixed media pieces — both panels and sculptures — that celebrate all of 'the little things' I overlooked while being too busy to notice. Tiny people snipped from the pages of old books, explore each of these wonders, marveling at their magnificence. There truly is so much beauty surrounding us all the time, we just have to stop long enough to see it. Here's to appreciating "the little things".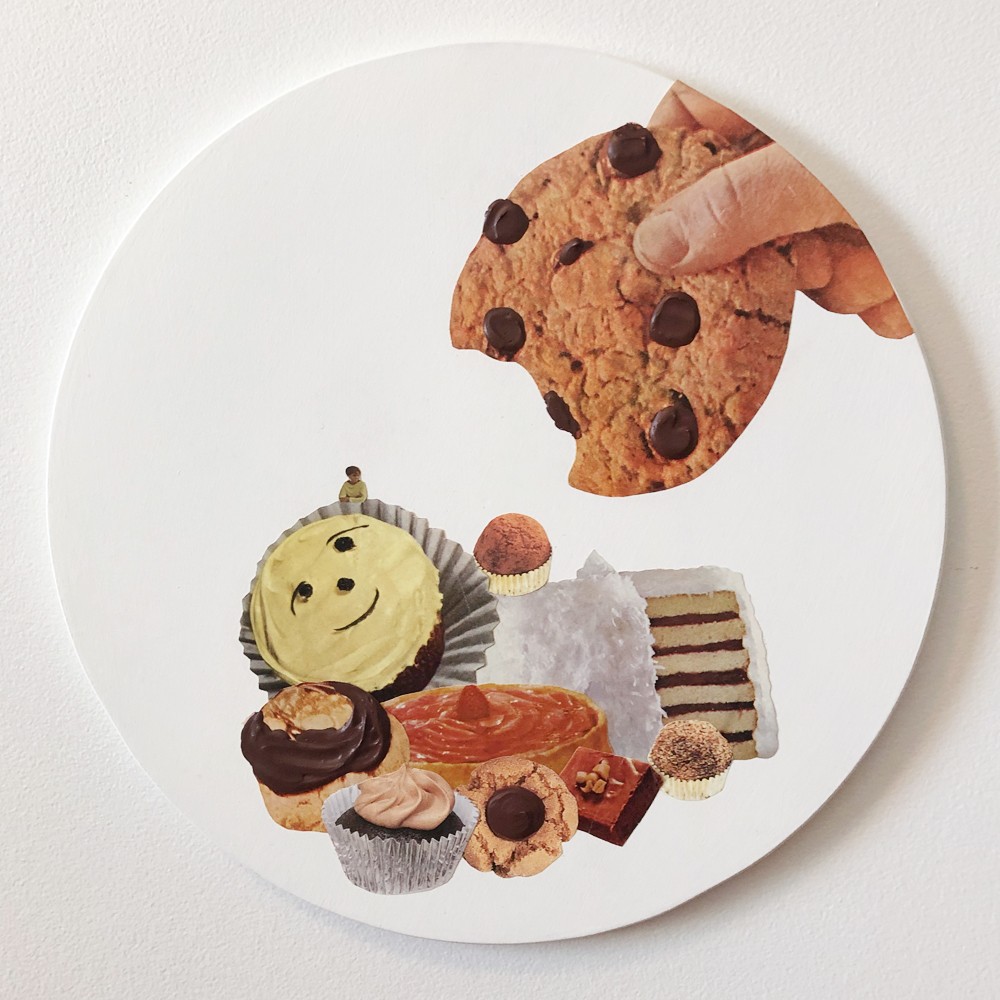 baked  2020
Found images and acrylic paint on panel  10″ dia.
$525.00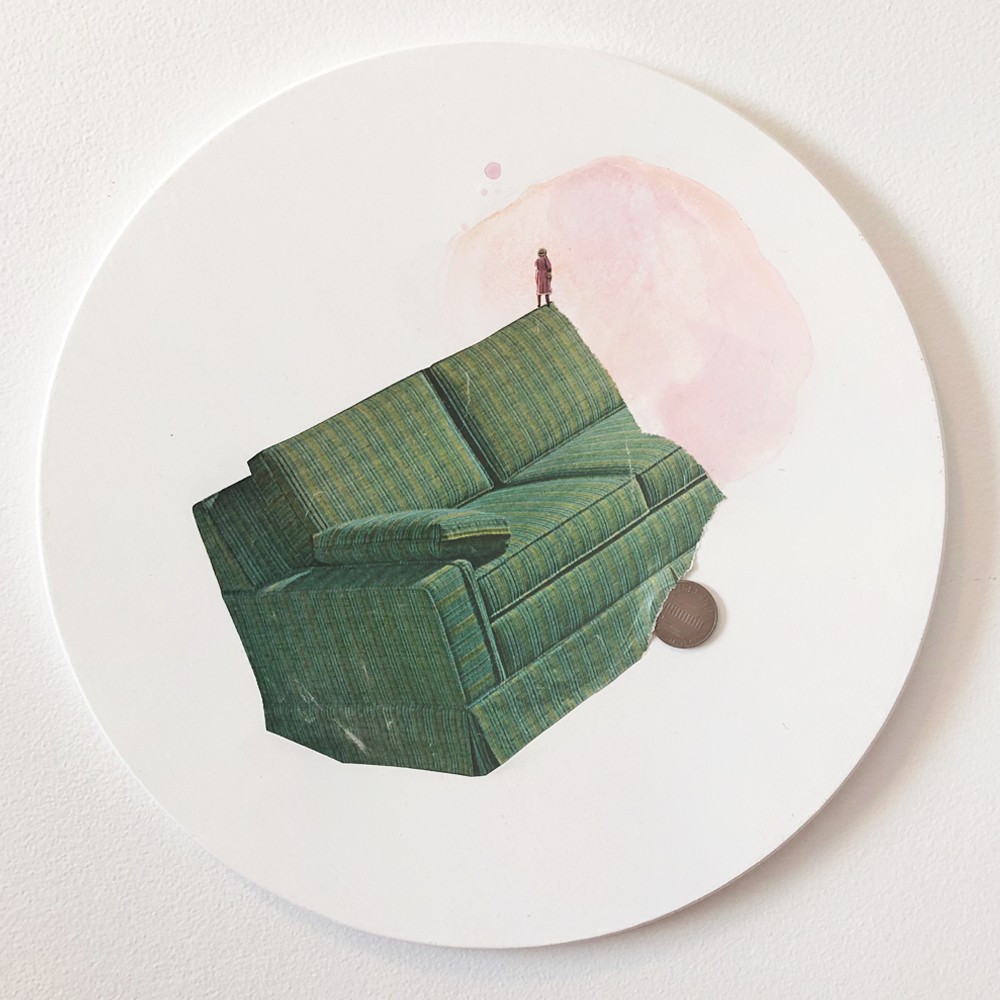 couch  2020
Found images, acrylic paint and copper penny on panel  10″ dia.
SOLD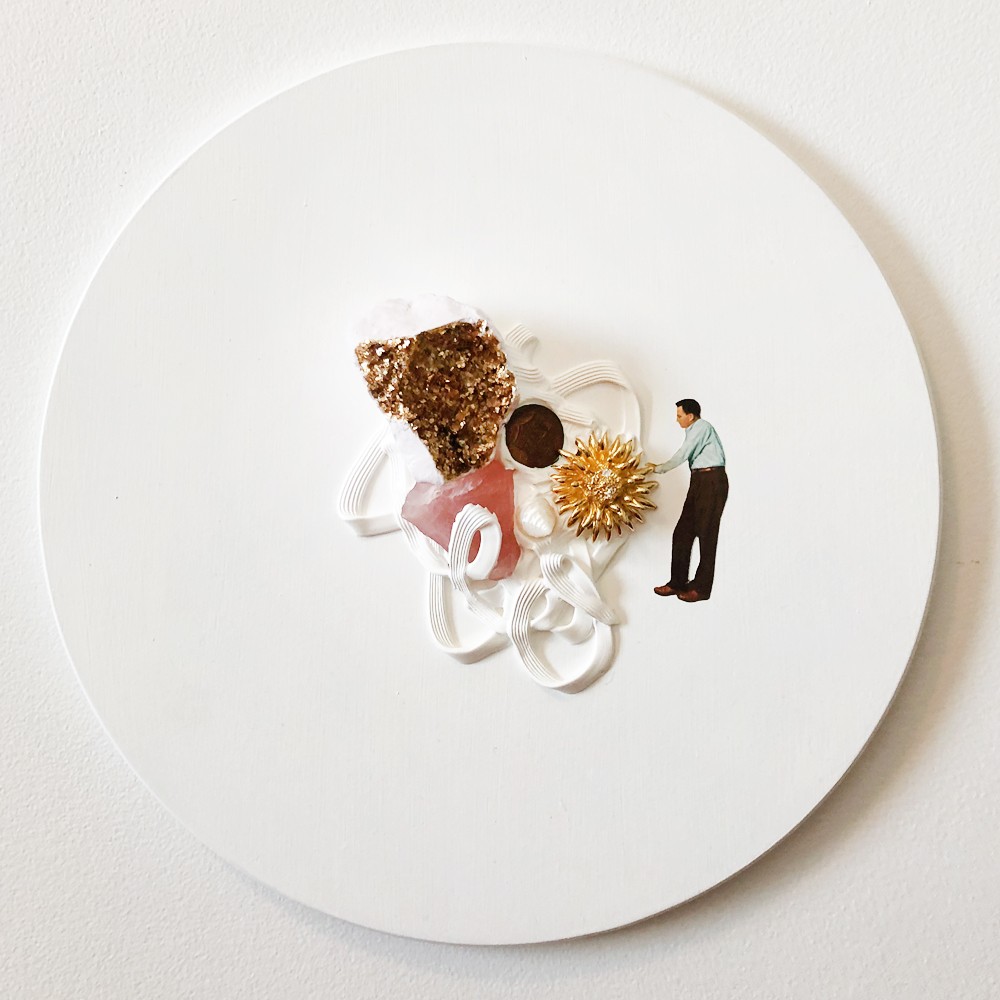 little treasures (gold)  2020
Found image, painted rock, costume jewelry, seashell and acrylic paint on panel  10″ dia.
$625.00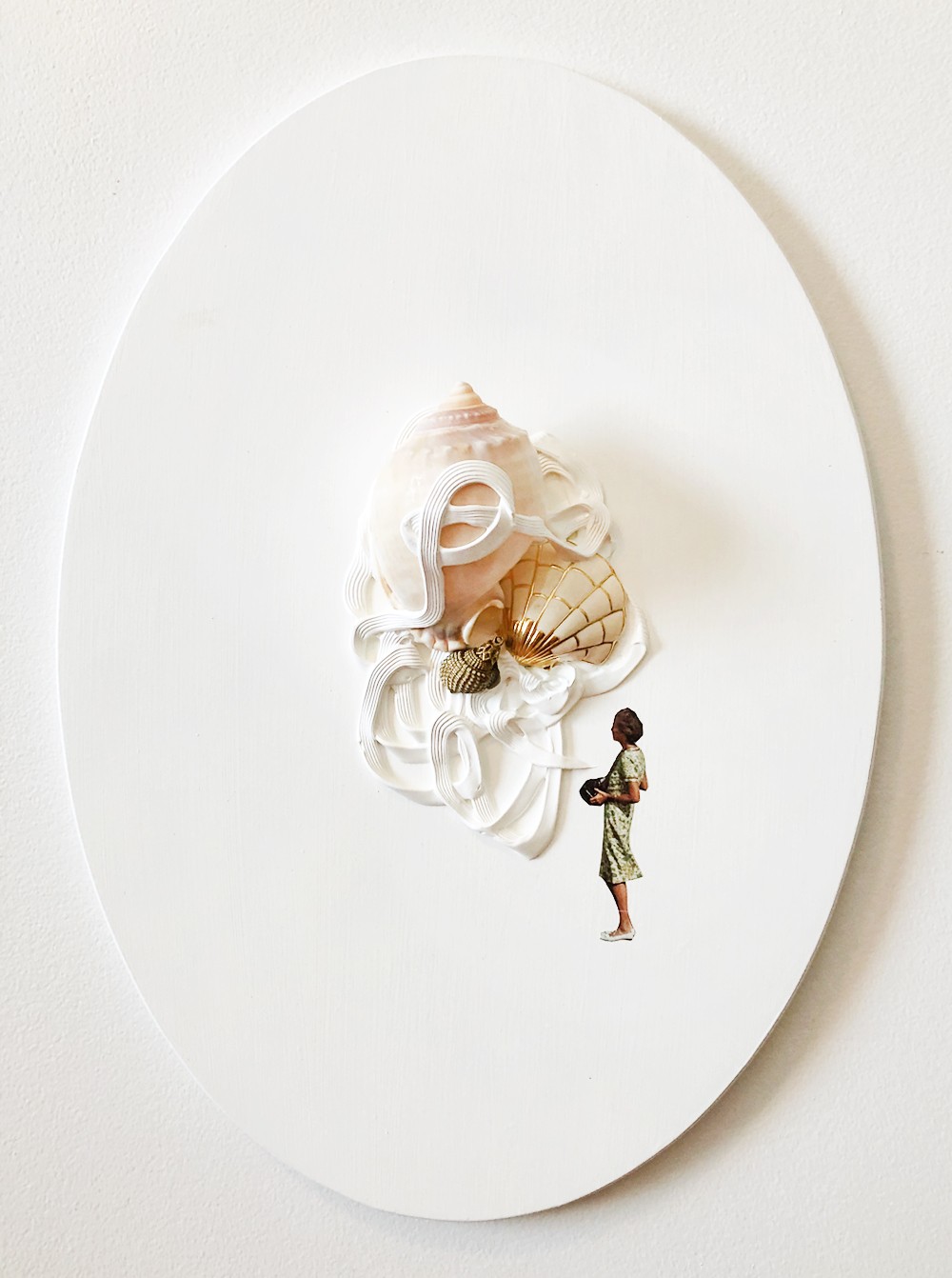 little treasures (seaside)  2020
Found image, costume jewelry, seashell and acrylic paint  13.5″ x 9.75″
SOLD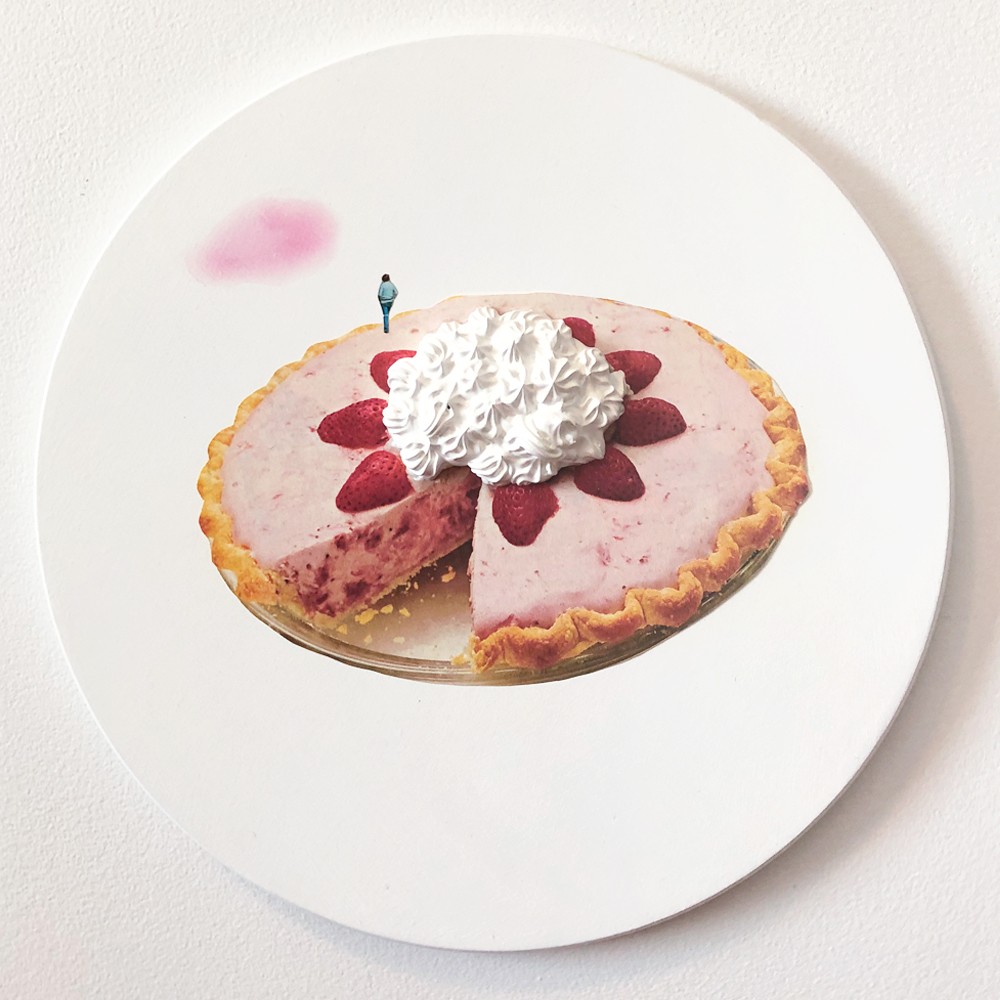 whipped  2020
Found images and acrylic paint on panel  10″ dia.
SOLD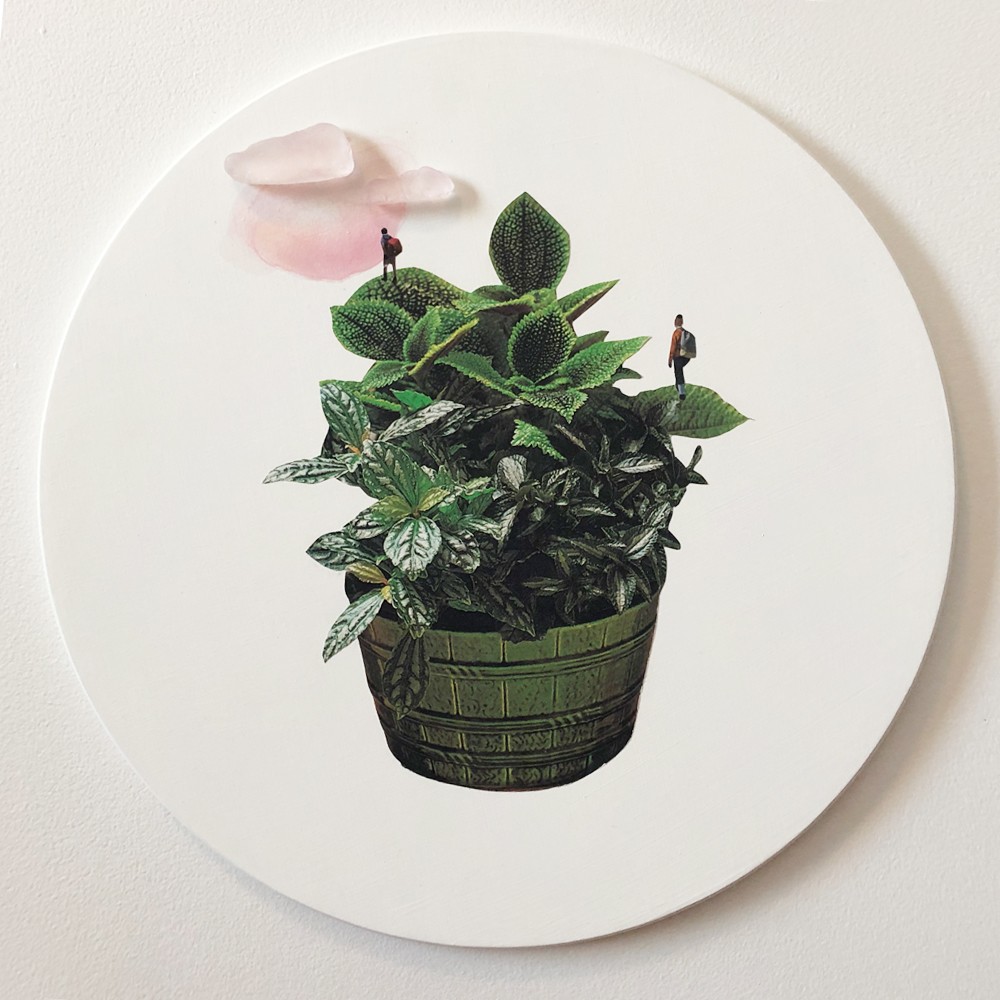 take a hike  2020
Found images, sea glass and acrylic on panel  12″ dia.
SOLD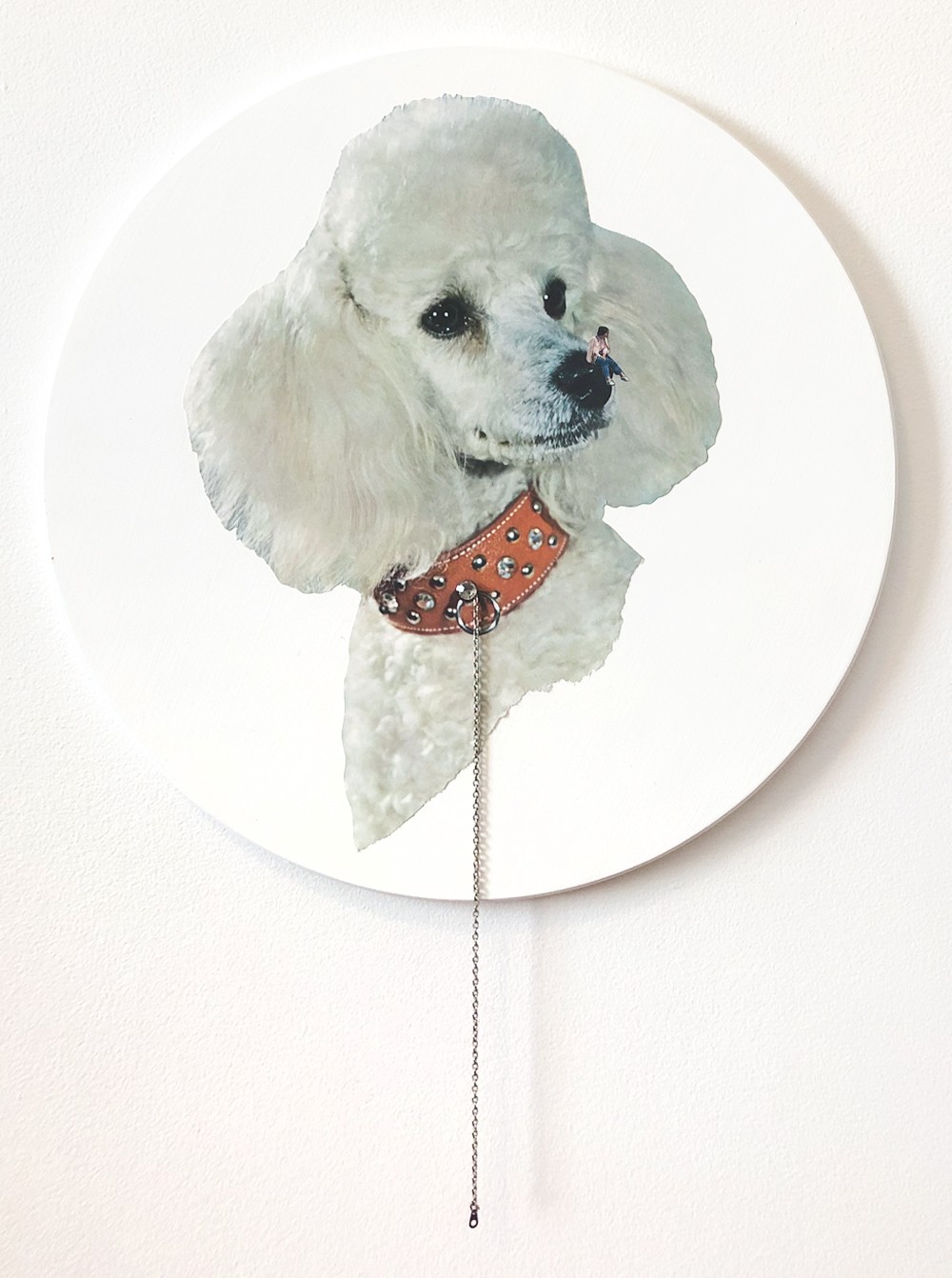 furry bff  2020
Found images, costume jewelry and acrylic paint on panel  12″ dia.
SOLD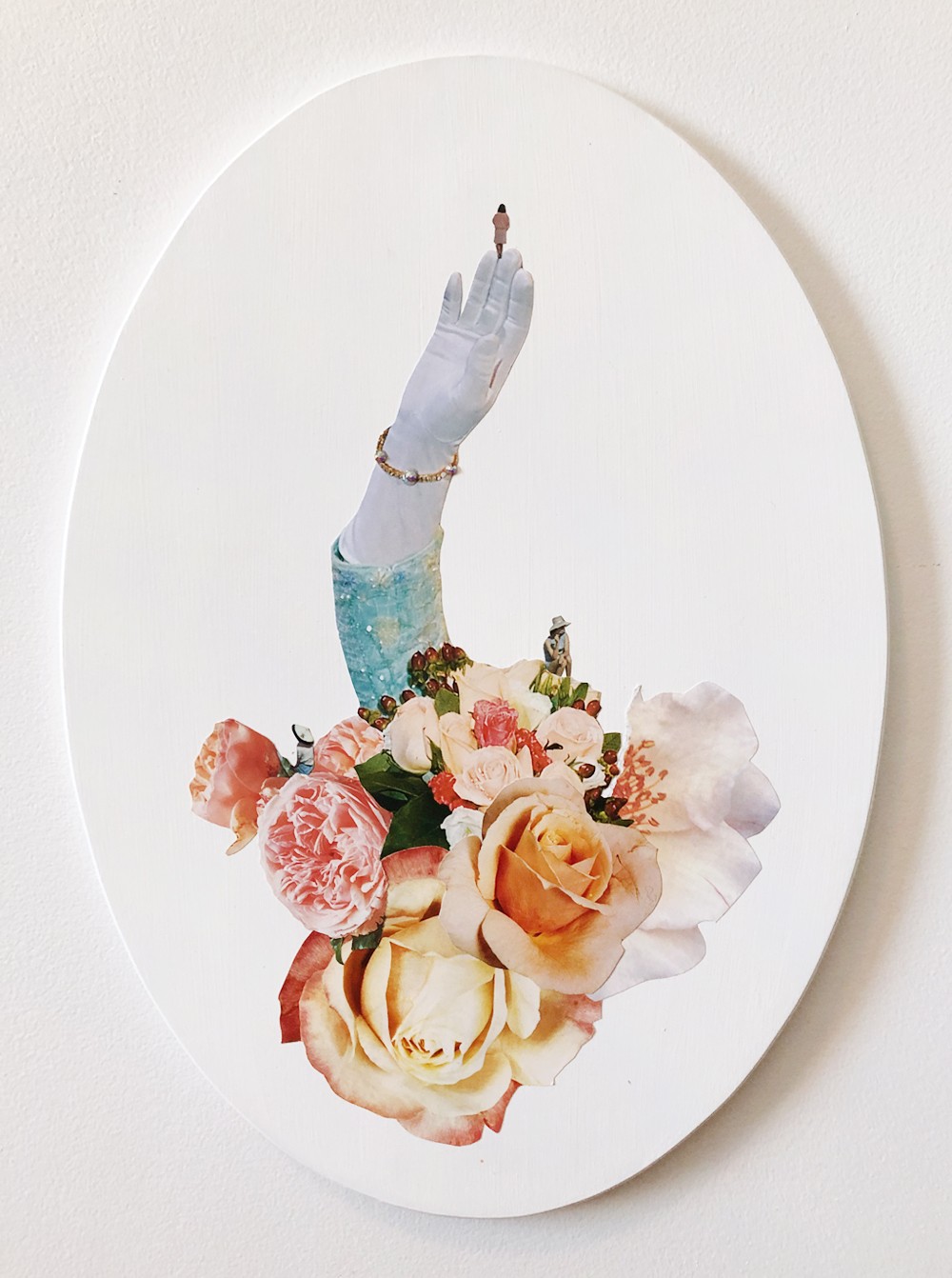 arm's length away  2020
Found images, Swarovski crystals and acrylic paint on panel  13.5″ x 9.75″
$625.00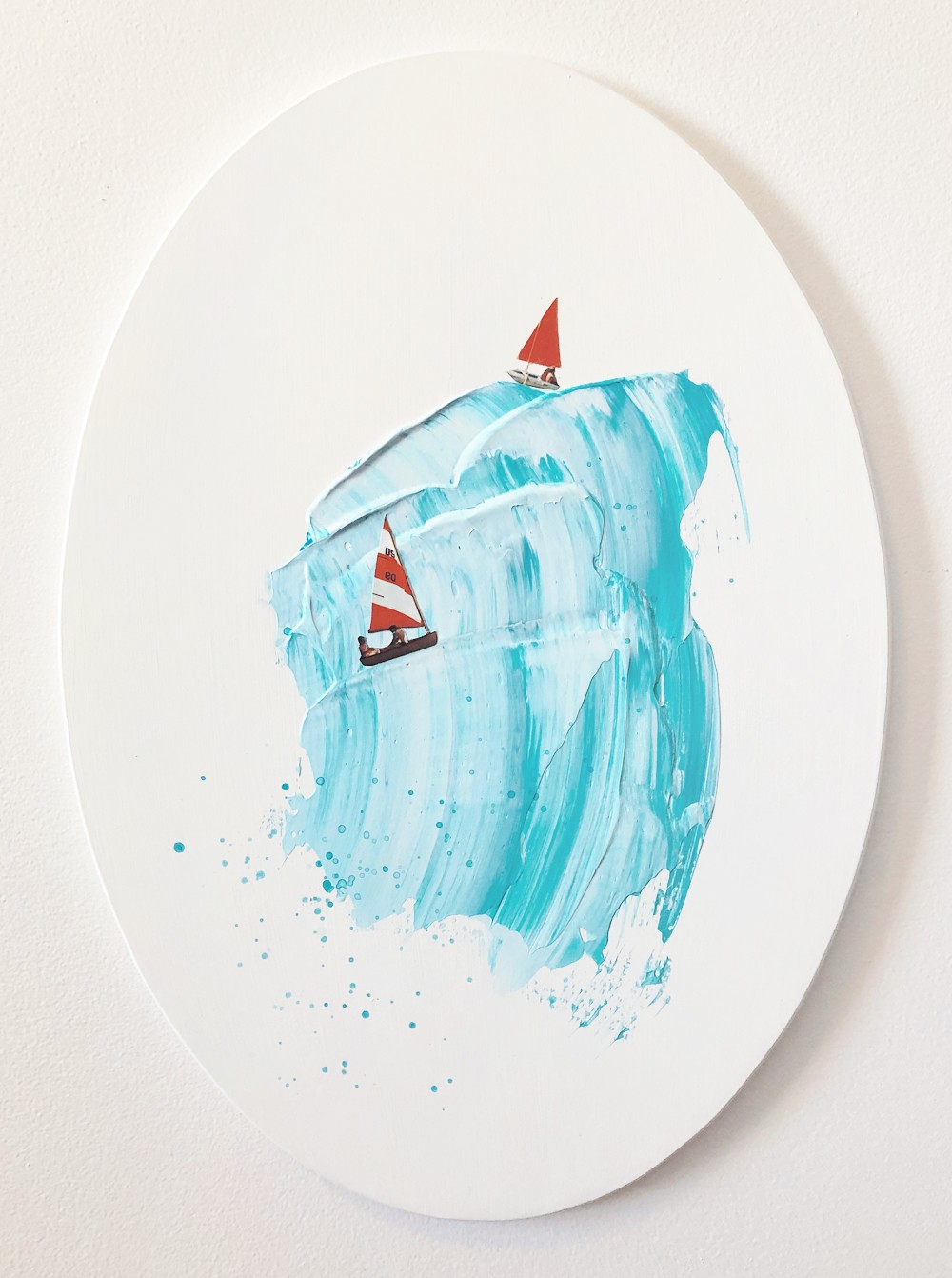 sail away  2020
Found images and acrylic paint on panel  13.5″ x 9.75″
SOLD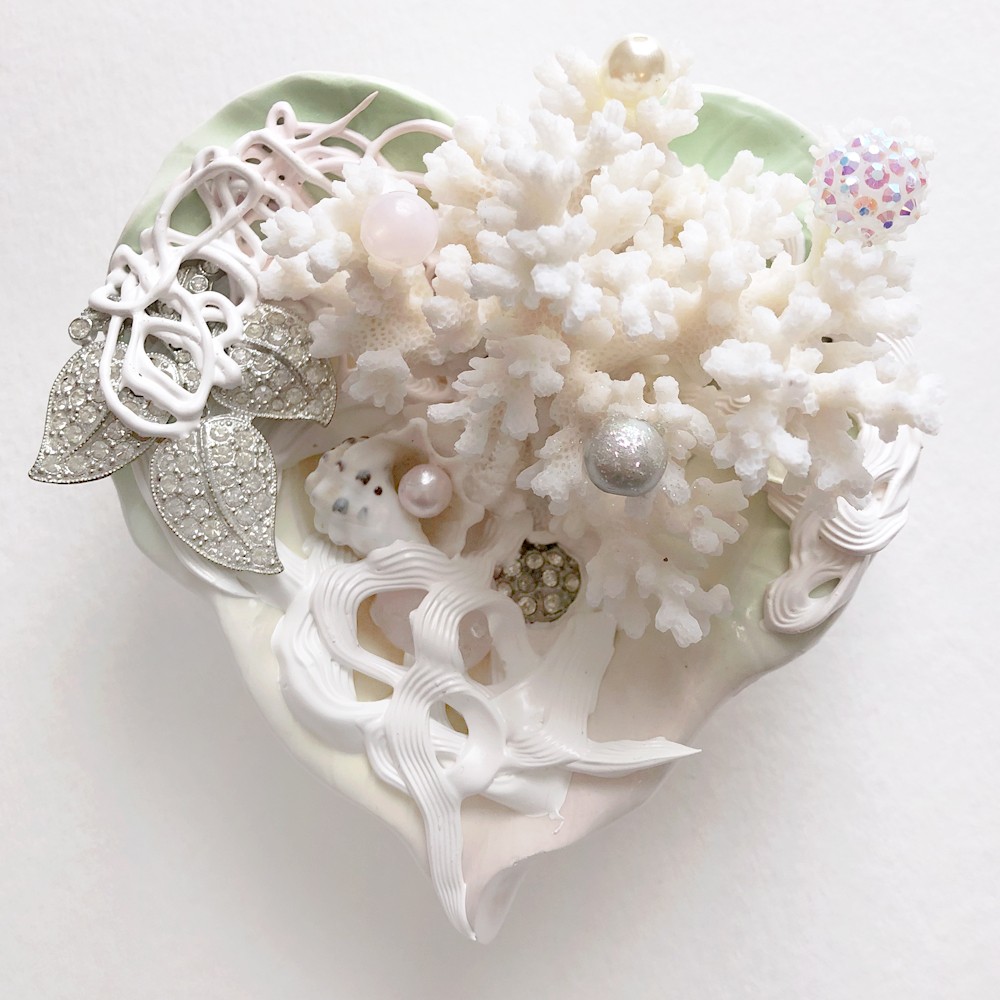 flora  2020
Ceramic dish, coral, seashell, costume jewelry and acrylic paint under glass bell jar with wooden base  9″ x 7″
$650.00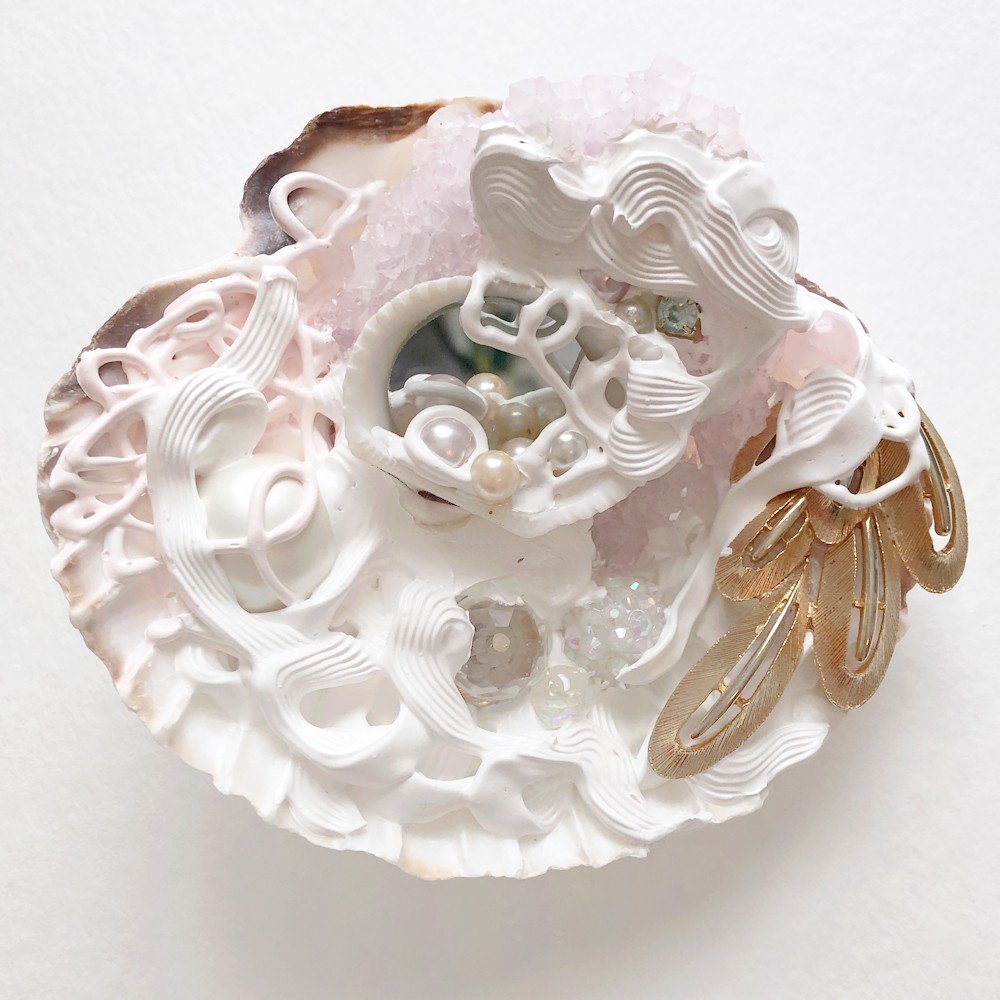 farrah  2020
Seashells, mirror, costume jewelry. borax crystal and acrylic paint under glass bell jar with wooden base  9″ x 7″
$650.00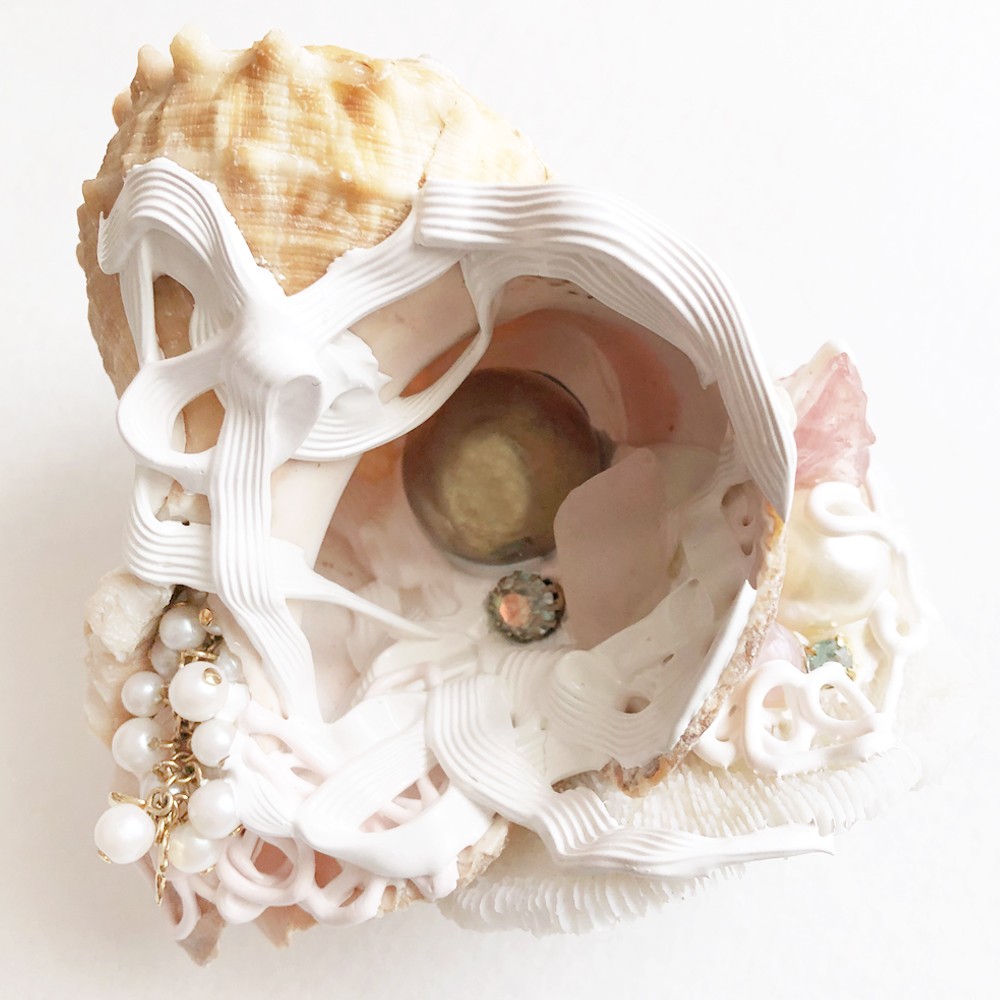 fiona  2020
Seashell, coral, rose quartz, costume jewelry and acrylic paint under glass bell jar with wooden base  9″ x 7″
$650.00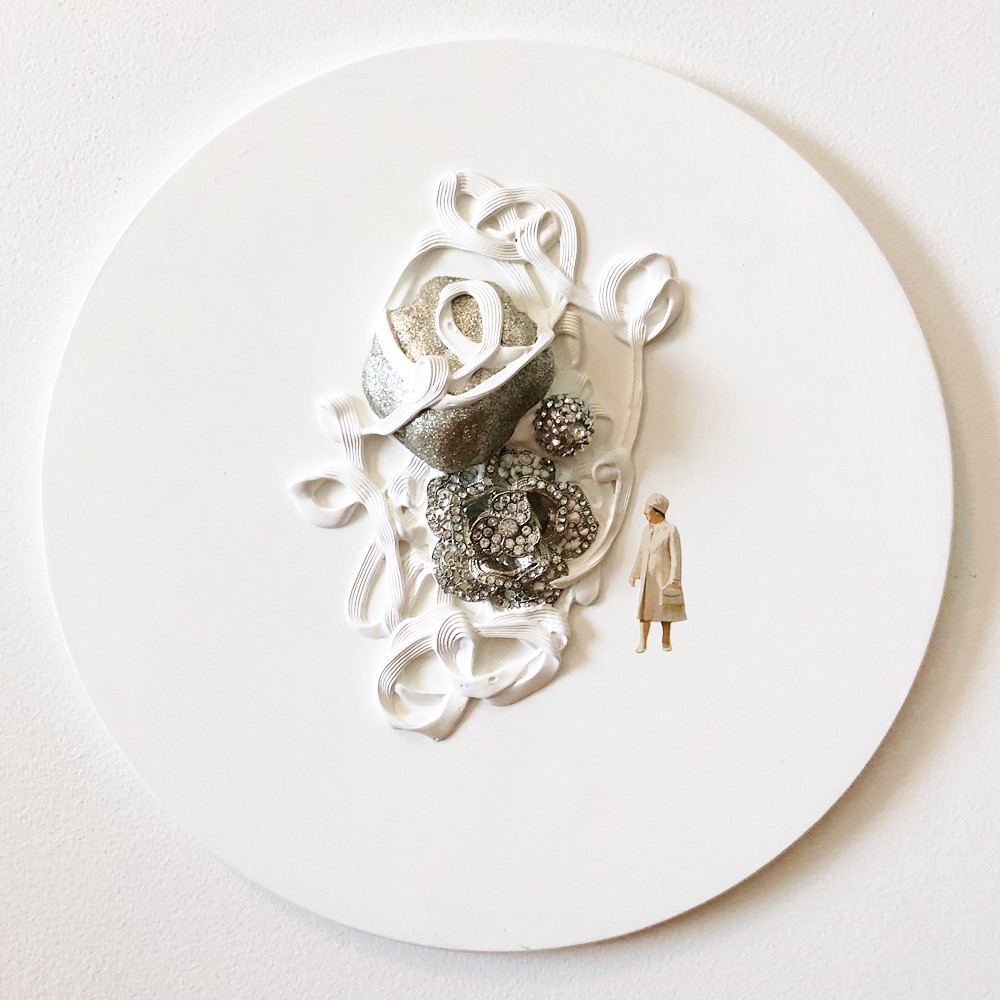 little treasures (silver)  2020
Found image, painted rock, costume jewelry and acrylic paint on panel  10″ dia.
$625.00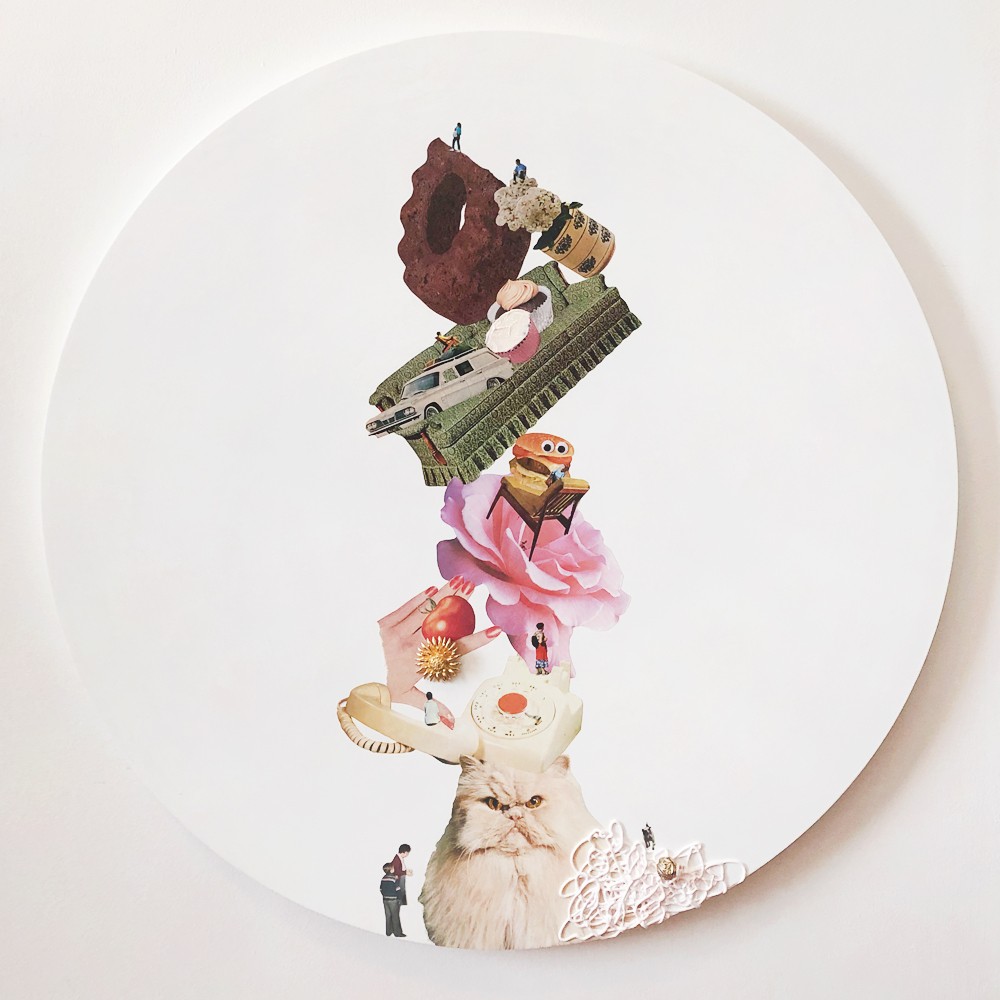 the little things  2020
Found images, costume jewelry, glitter, googly eyes and acrylic paint on panel  24″ dia.
SOLD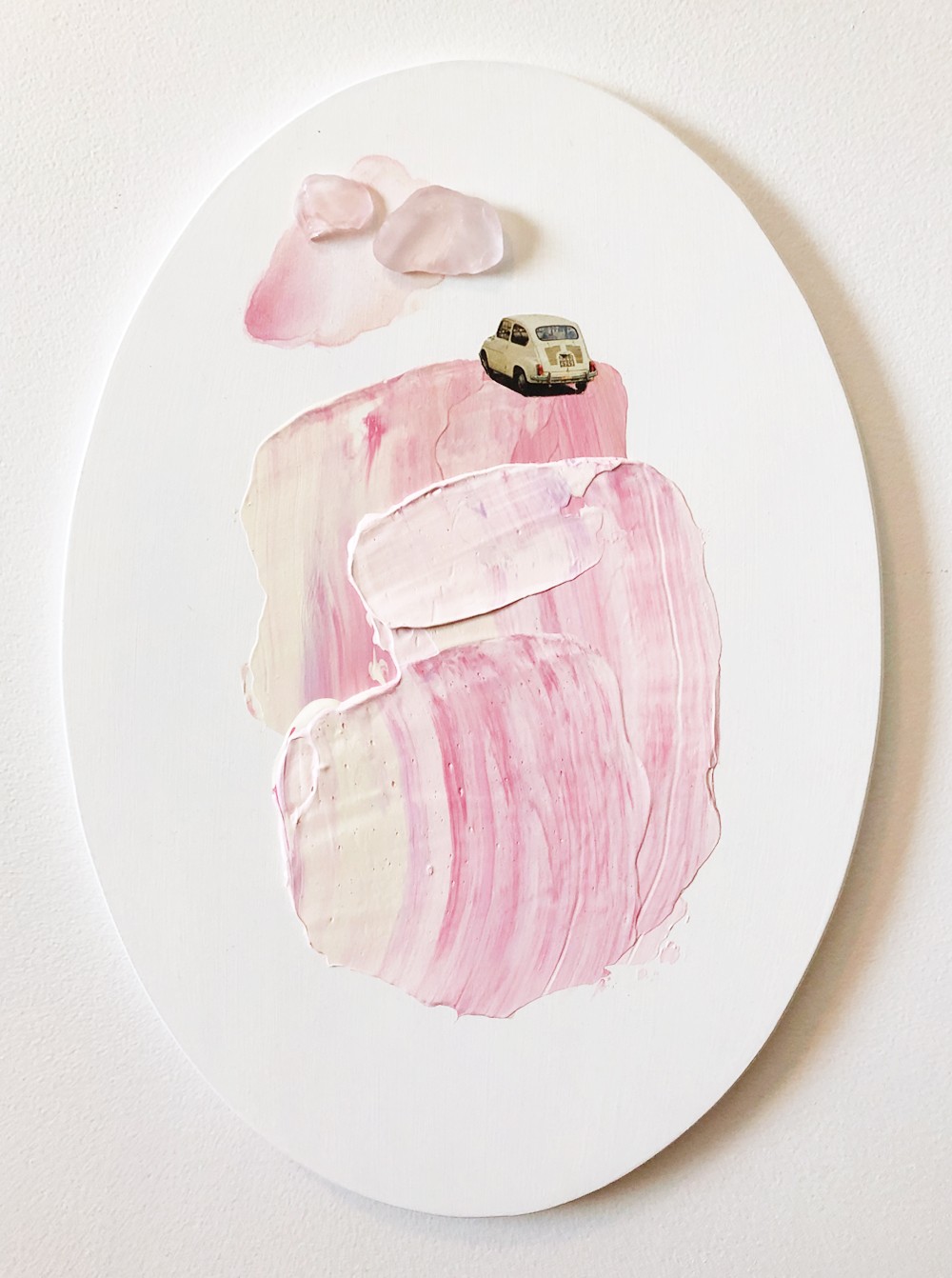 sunset drive  2020
Found image, sea glass and acrylic on panel  13.5″ x 9.75″
$625.00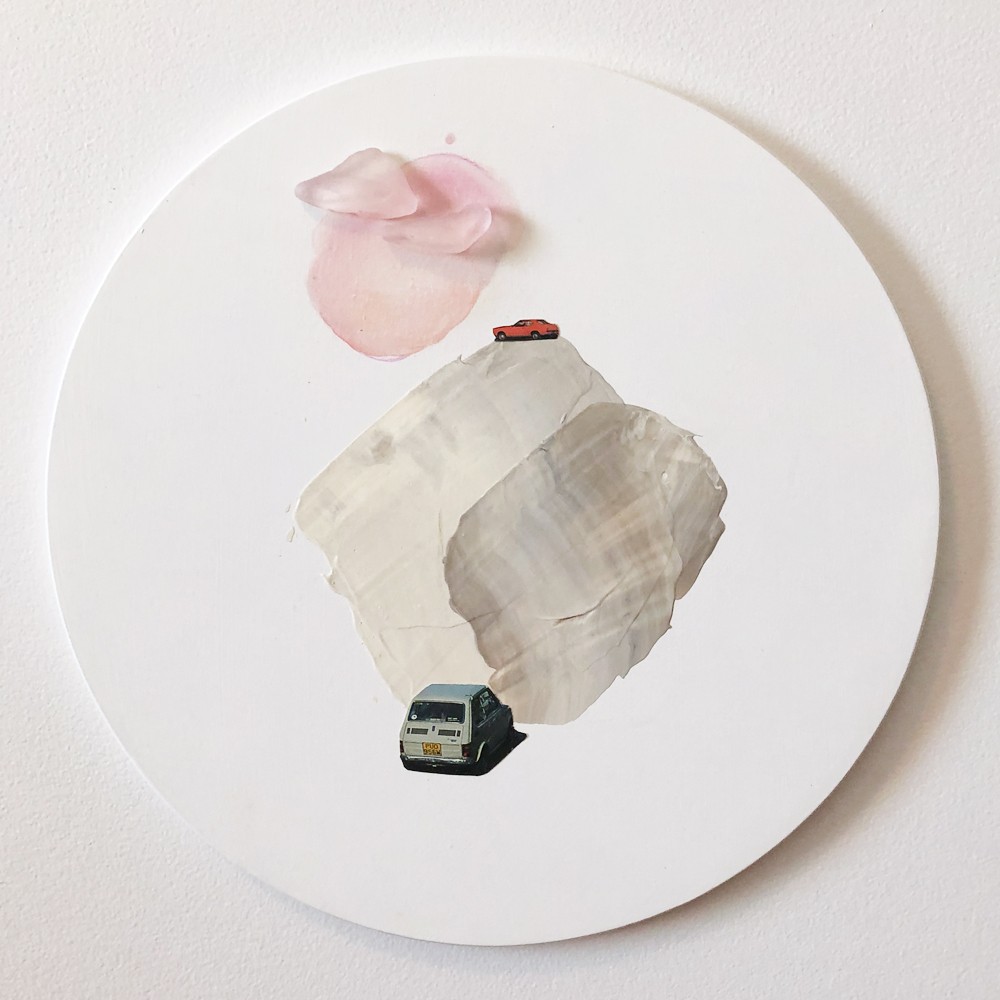 sunset drive II  2020
Found images, sea glass and acrylic paint on panel  10″ dia.
$525.00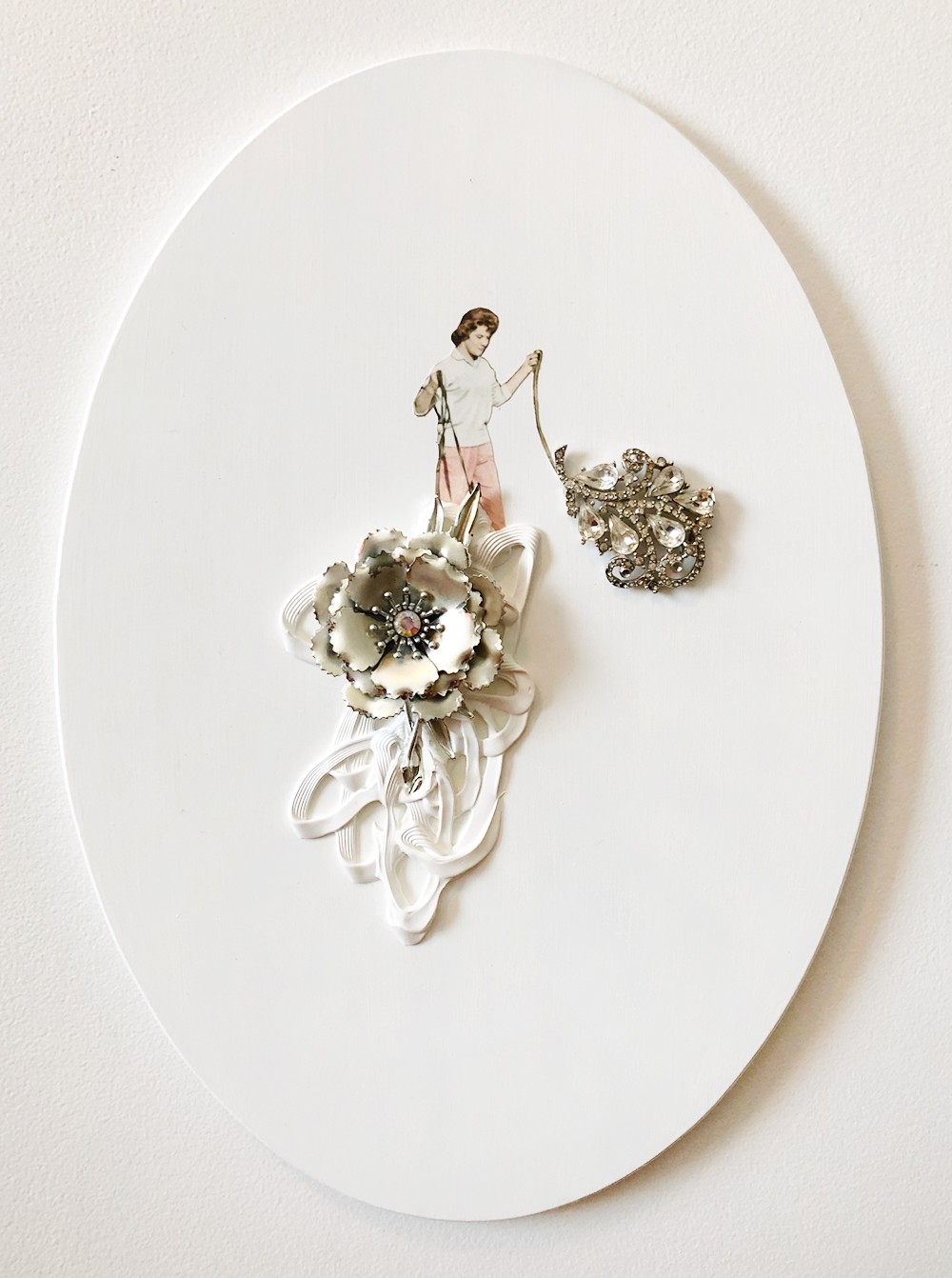 little treasures (on a walk)  2020
Found image, costume jewelry and acrylic paint on panel  13.5″ x 9.75″
SOLD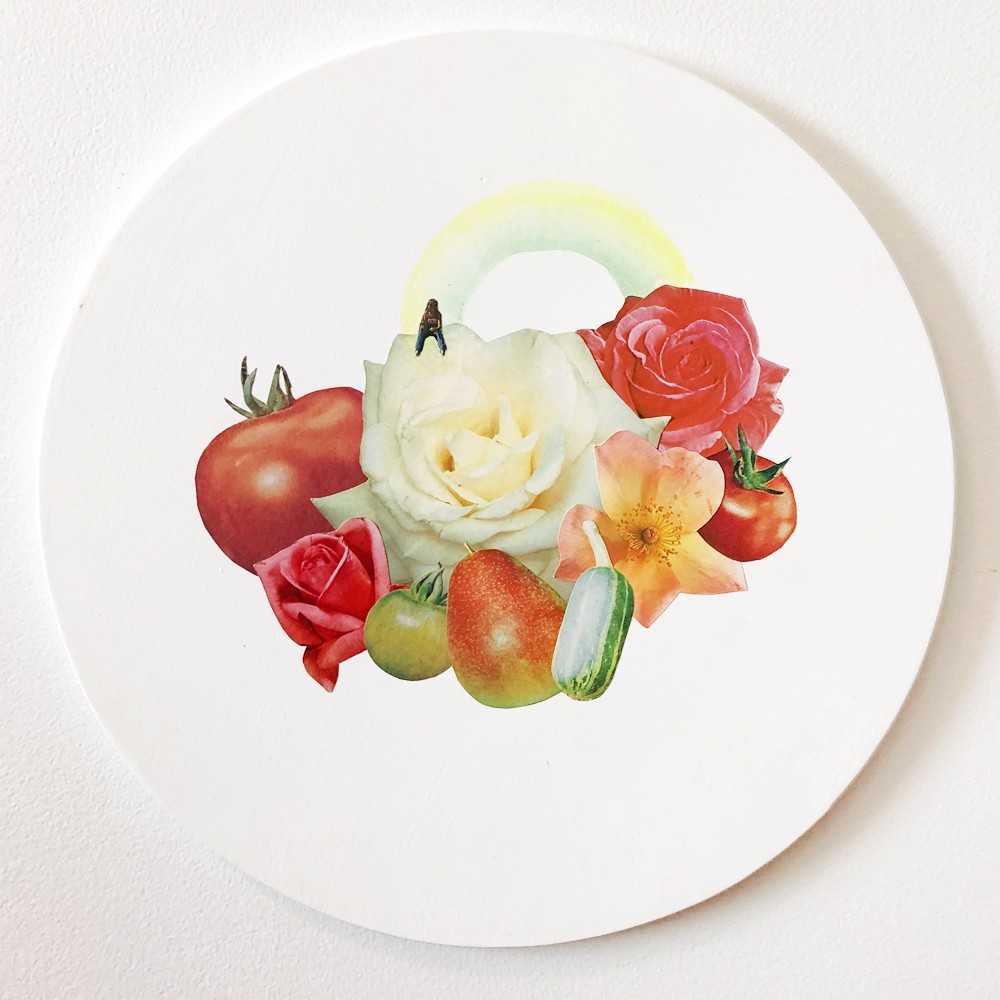 growing  2020
Found images and acrylic paint on panel  10″ dia.
$525.00