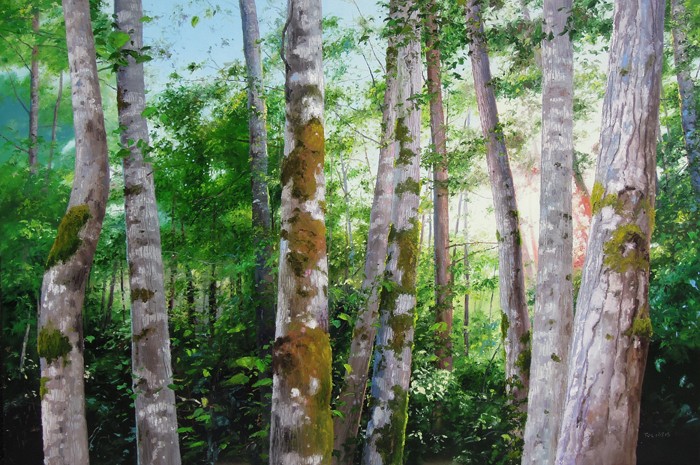 Erika Toliusis was born in 1969 in Montevideo, Uruguay. She studied at the Circulo de Bellas Artes in Uruguay, and the Worcester Art Museum in Massachusetts. Currently based in Vancouver, Toliusis has painted panoramic landscapes of India, the Himalayas, South America and Canada. For over 15 years, she has rendered these dramatic works in oil, with a palette knife as her only painting tool.
In seeking the familiar, one cannot fail to draw comparisons of Toliusis' sweeping vistas to Turner, Homer or Bierstadt, but these are not the influences who have informed the artist's work. All locations are real, primarily drawn from travels abroad. They are not, however intended to be a documentation of place. Locations are selected specifically for the sensory emotion they elicit. The real inspiration behind this artist, the energy that flows in and through her work, is most strongly identified by the artist's favorite philosopher, J. Krishnamurti. Toliusis is consistent in her dramatic use of shade and shadow, and invariably silent spaces. In this newest body of work, there is a movement away from the idyllic and peaceful landscapes that the artist is best known for, to a more transformative view of the world with stronger expressions of light.
Erika has had over 30 solo exhibitions internationally including Canada, the United States, Uruguay, Argentina, Dominican Republic, Paris, Amsterdam and Berlin. Her works are included in corporate and private collections in the United States, Canada, France, Germany, the Netherlands and Hong Kong.