Using brilliant colours to craft convincing depth, Abraham's meticulously realized oil paintings create a personal mythology through coded symbolism and abstracted narrative. Using word-play and familiar phrases, his titles offer entry into a tactile and humorous world inhabited by plants, animals and caricatures, exaggerated to create a sense of the absurd as if seen through the eyes of a child.
Abraham values a sense of humour and play, which belies a darker undertone pervading his imagery. As a satire on the political, social, individual and philosophical, life is skewered by an irreverent kitsch realism where the viewer is challenged to choose between laughing or being appalled. The paintings themselves don't seek to explain, but rather point towards ideas more felt than understood.

Abraham's paintings strike a balance between the macabre and seductive, the dark and the light. To psychologically explore this, adulthood and childhood are visually juxtaposed, simultaneously capturing the contradictions that make us who we are. Whether it's a grown man licking an oversized lolly, or wading in shallow shark infested waters with a turtle shaped flotation device, the work elicits a sense of curiosity and mystery that we seek as adults, sentiments that might remind us of our childhood. Interwoven in this joy of discovery, creativity and fun is that duality of the unknown in which lurks potential menace, physical, existential and psychological – realities rendered playful by Abraham's nuanced handling of the subject.
"Motivation to create an image can come from any number of things, including art, literature, the media, politics, philosophy, religious studies, psychology, business world, family life, interpersonal relationships, feelings, by observing and involvement.  Being a non-linear thinker, with a variety of personal circumstances, experiences, influences and mess-ups to draw from really helps!   The work is both subjective, and based in reality, a melding of the inner and outer world.  There are so many things to ponder and wrap one's head around… Art is a reflection of life: growing and dying, serious, funny, absurd, joyous, hard, paradoxical, sensuous, scary, communal, divisive… all things at once, and ever changing.  Each painting is a snapshot of the mind in time."  Michael Abraham
Spirit  2017
Oil on linen  36″ x 36″
$10,500.00
Ponder  2017
Oil on linen  24″ x 36″
$6,500.00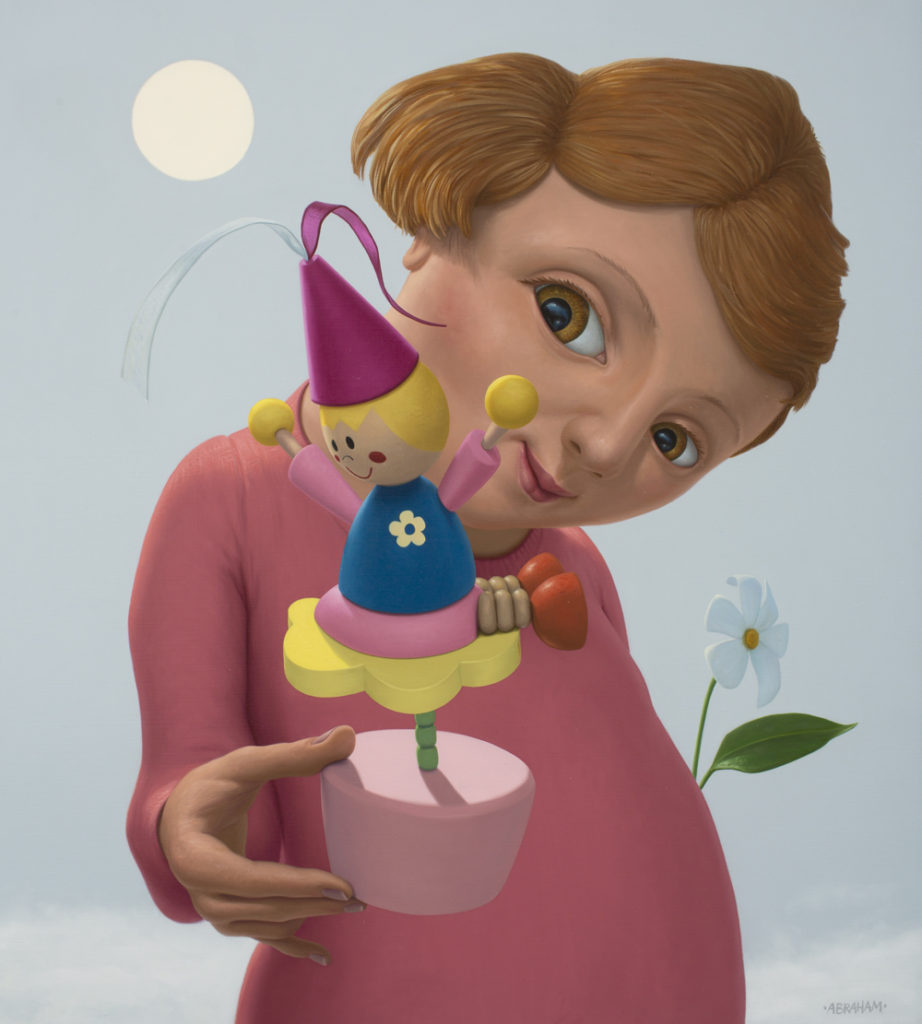 Winter Sun  2016
Oil on linen  36″ x 32″
$9,500.00
Flora Snipper Snapper  2011
Oil on Linen  44″ x 26″
$9,600.00
A Picture From the Big Book of Life  2016
Oil on linen  18″ x 22″
$4,000.00
AVAILABLE AT THE ARTIST'S STUDIO
Candle  2017
Oil on linen  36″ x 36″
$10,500.00
Currently at artist's studio
Gold Stream  2017
Oil on linen  36″ x 36″
$10,500.00
Currently at artist's studio
Union  2017
Oil on linen  36″ x 36″
$10,500.00
Currently at artist's studio
Hope and Punches  2014
Oil on Linen  48″ x 44″
$17,000.00
Currently at artist's studio
Power Couple  2012
Oil on Linen  48″ x 40″
$15,500.00
Currently at artist's studio
Dog Eat Dog  Edition 3/9  2017
Bronze  6.75″ x 8.50″
$3,600.00
Currently at artist's studio
Satyr and Sun (Devil as Sunshine) Edition 4/9  2016
Bronze 18.5″ x 9″ x 9″
$6,800.00
Currently at artist's studio
Sleeping Dog Edition 4/9  2013
Bronze  11″ x 18″ x 9″
$8,500.00
Currently at artist's studio
Candelabrum Edition 1/9   2017
Bronze  14″ x 8.5″ x 19.5
$8,300.00
Currently at artist's studio
Global Head Spin Edition 1/9  2015
Bronze  24″ x 14″ x 12.5″
$11,500.00
Currently at artist's studio
This artist's work is represented in