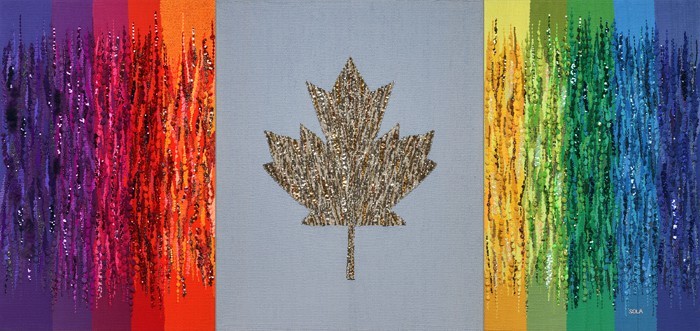 Canada 150  2017  T-shirts, sequins and carnival beads  48″ x 99″ triptych
Born in 1936, Sola grew up in London during and after World War II, when reuse and recycling played a fundamental role in daily life. Her tapestries transform the idea of thrift and make it enchanting. Using yarn procured from thrift stores and estate sales, Sola creates inviting, colorful landscapes full of rich detail and warmth that comes from its materials.
The piece, appropriately titled Canada 150 is made with upcycled materials such as t-shirts, sequins, and beads, is finally in tune with the city and the country's spirit. Each t-shirt, collected from thrift stores, is imbricated with the history of different times and different people. Through her weaving, Sola brings together a whole community of anonymous people, alongside their stories, to create something unified, unique and astonishing: a colorful and sparkling, revisited Canadian flag.
Sola's Canada 150 tapestry will be on display from July 1st, 2017 until July 31st, in the window of Ian Tan Gallery, as part of the group show Canada 150 Show with artists from the gallery's roster such as Kristofer Dean, Greta Guzek, Michael Abraham, David Pirrie, and Wim Blom.
A pioneer in the oeuvre, Sola won a prize in 1973 for Best Fibre Art in Vancouver, BC. Since then, her work has been collected by a wide range of prominent institutions and individuals such as the Key West Museum, the ResMed Corporation of San Diego, Canuck Place, the Sarah Mclachlan School of Music and Jim Pattison. Her work has widespread appeal and is more relevant than ever today when young artisans worldwide are claiming craft traditions, like weaving, as their own.