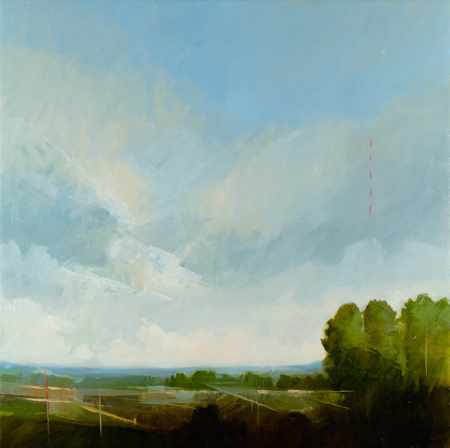 Old Land Plan  2015  Oil on canvas  28″ x 28″
In composing an image the artist is often trying to identify what they find pleasing. Everything we see has an inherent mathematical logic that can be broken down into simple or complex arrangements. This notion formed an aspect of the modernist movement – artists getting to the heart of what a painting actually was, and in excavating that premise, finding out what makes an image sing.
The deconstruction began with Paul Cezanne who, by enclosing his color with outlines, emphasized the underlying geometric structure of his compositions. Piet Mondrian pushed this further, reducing his paintings to straight lines and primary colors – the basic, elemental properties of all paintings. In explaining the way David Edwards works, it is useful to refer to the historical precedence of how and why artists examine visual elements. Edwards is employing a type of abstraction, through visibly broad brush-marks and the residue of ghostly shapes to acknowledge the fabricated illusion of his painting. A dashing red line up the side of Old Land Plan references this latent grid that informs all types of seeing. By figuring out what they want to paint, artists investigate the way our visual world is structured, from the boundaries of the canvas to the molecular structures of all matter.