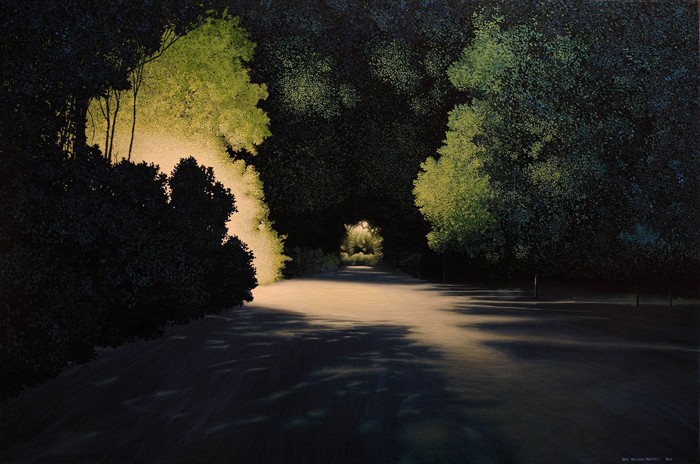 Canadian born, Regina based painter Sean William Randall's dynamic oeuvre depicts a man whose brilliant color sensibility coupled with incisive awareness has made him one of Canada's most interesting painters working today. In 1992 Randall left his career as an architect to dedicate himself to painting; this brash confidence is evinced in his work where one minute he demonstrates a profound love for Canadian landscape painting, conjuring comparisons to the enchanting Ivan Eyre, and the next moment setting the tradition on fire by painting flaming wreckage streaking across the pastel prairie sky. His work often invokes meta-cycles concerning image inundation and the way these images function in our subconscious and mediate our experiences as citizens of the 21st century.
In this latest series, Randall plays with notions of reality and familiarity as being constructs, informed by images from our past which play on our memory. He realizes this concept by depicting a setting which perhaps feels familiar though is decidedly unplaceable. Palpable tension is created within the image as the viewer is left to wonder whether we are situated on a lit path or floating down a gentle stream towards or away from, an unknown light source.
Randall's painting practice acknowledges that it is dictated by the use of modern technology while concurrently striving to be its antithesis through analyzing the concepts and producing work in a slow medium like painting. His work leaves us with a question relevant to our modern existence – can we still differentiate between which memories are our own and which have been crafted for us, and is there a difference?
Ian Tan Art Gallery Vancouver
2342 Granville St, Vancouver, BC V6H 3G3
(604) 738-1077